Heavy Haulage
Operating New Zealand-wide, we specialise in moving construction equipment and forestry plant, heavy machinery, transporting for the energy sector (such as turbines and transformers), boats, jacking and machine installation, and all over-dimension and overweight loads.
If you need it moved, give us a call today for a quote.
Call Mark on 027 489 3794.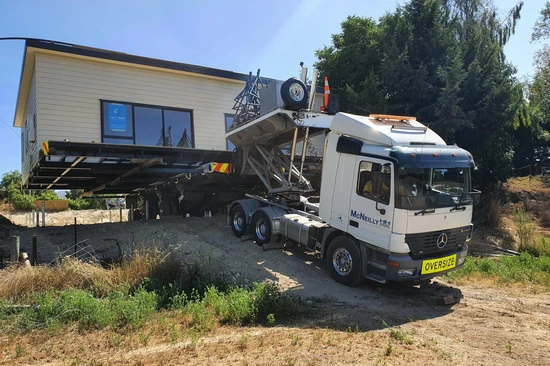 Building Relocations
If you're looking to transport a home, an office building or have a house removed, we can help. We also offer re-levelling and re-piling.
Buildings can be relocated throughout the South Island whether it's a second-hand relocatable home, a new prefab, a kit-set home, bach or crib.
Just call 027 489 3794 for a free quote.
WE MOVE THE BIG STUFF.
We know heavy haulage and transporting. We have in-house certified Class 1 and Class 2 load pilots, BESS (Bridge Engineering Self Supervision) certified drivers and experienced staff to help you with your project. With years of experience in house removals and transporting, Mark from McNeilly Heavy Haulage brings a personal touch and local experience to every project. We offer a unique mix of transportation options that allows us to transport almost anything. We are able to haul locally or long distance and are keen to work with each customer for their specific and unique needs. We would love to work with you on any project!